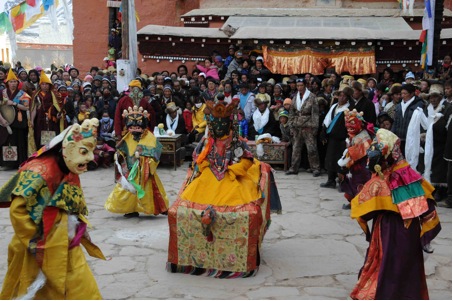 Jeudi 17 janvier :
Cultural heritage and (un)broken traditions in areas of historical Western Tibet
by Christian Jahoda, Researcher at the Institute for Social Anthropology, Austrian Academy of Sciences (Vienna)
Over the past few decades the system of religio-economic interaction between lay villagers and monasteries has undergone enormous change all over historical Western Tibet, both in areas that today belong to India and in those that belong to China. However, recent research in particular in borderland places of Spiti, Upper Kinnaur and Purang has revealed that the once particularly rich cultural traditions and heritage of these communities have survived to a far greater extent than was previously known or anticipated. This concerns festival and ritual traditions associated with Buddhist monasteries (such as Khorchag monastery in Purang) as well as performance traditions of dances, songs, religious plays and recitations (by ritual performers and lay villagers) that can be still be found alive in villages in Upper Kinnaur and Spiti.
Of particular interest is the cult of a female protective deity who was once present in various major places of historical Western Tibet, including Tholing, Nyarma, Khorchag and Tabo. Evidence for her continuing cult can still be found in the form of wall paintings, statues, texts, daily propitiation rituals, ceremonies and paintings on cloth. In certain places she still appears today through a trance-medium at annual village and monastic festivals.
Supported by visual documentation, the lecture will discuss various examples of festival and ritual traditions and give an insight into present monastic and village life in selected borderland places of historical Western Tibet.