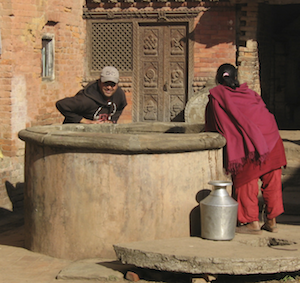 September 9th – September 21st 2013
Universität Wien – Department of South Asian, Tibetan and Buddhist Studies
You will be surprised finding yourself able to conduct simple conversations within a few days.
Use the unique chance to explore the rich culture and language of the Newar, a most fascinating ethnic group from the Kathmandu-Valley.
Get to know the world of spoken Newari by the experienced language teacher and native speaker Lakshmi Nath Shreshta in a pleasurable way.
Practice every day conversation, learn to sing Newari folk songs and enjoy the great atmosphere of Vienna in late summer.
Time Table: Mo-Fr: 10am – 4pm,
Sa: 10am – 1pm
Venue: ISTB, University of Vienna
Teacher: Lakshmi Nath Shrestha
Language of instruction: English/Newari
Fee: regular: 240,- €, students: 180,- € (accomodation excluded)
Contact: johanna.buss@univie.ac.at
Deadline for application: 30.06.2013 Application by mail or fax:
ISTB, Spitalgasse 2, Hof 2.1, 1090 Wien phone: +43-1-4277-43501 or 43502 fax: +43-1-4277-9435
Application by email: istb@univie.ac.at
http://www.istb.univie.ac.at