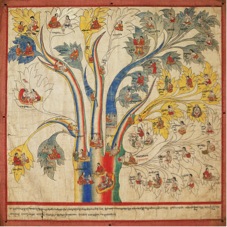 Tree of Diagnosis, Copy of Plate 3 of the Lhasa Tibetan Medical Paintings; Lhasa, central Tibet; date unknown; pigments on cloth and brocade; private collection, Chicago.
March 15, 2014 – September 8, 2014
The Art of Tibetan Medicine
RUBIN MUSEUM OF ART
Open to the public:
March 15, 2014 – September 8, 2014
RUBIN MUSEUM OF ART – 50 West 17th Street – New York, NY 10011
The first major exhibition to present the origins, history and practice of a millennium of visual history, Bodies in Balance explores the guiding principles of the Tibetan science of healing represented in medical paintings, manuscripts, and medical instruments. A multi-media installation shows how Tibetan medicine is used today. The exhibition invites visitors to relate what they discover to their own lives through interactive experiences within the galleries and throughout the Museum including Café Serai and the shop.
The relationship of Tibetan medicine, Buddhism, and the visual arts has been integral to the development and transmission of this medical tradition. Approximately 140 objects dating from the 9th century to the present day demonstrate the advancement of Tibetan medical knowledge as it was codified in medical texts, illustrated in art, demonstrated by medical tools, and made evident by examples of medicines compounded from natural ingredients and applied in practice. Bodies in Balance provides audiences an opportunity to have a personalized exhibition experience. The Tibetan science of healing is based on an analytical system in which three forces – wind, bile, and phlegm – govern physical and mental aspects of being. Using a brief questionnaire, visitors can determine which of the three forces is dominant in their constitutions and follow a color-coded pathway that highlights the exhibition components most relevant to them. The exhibition includes videos and a touchscreen that provide additional information and interactive experiences of select elements of these practices.
Curated by Theresia Hofer
Bodies in Balance: The Art of Tibetan Medicine is made possible, in part, by the E. Rhodes and Leona B. Carpenter Foundation, Ellen Bayard Weedon Foundation, and Gildan Active Wear, in Honor of Robert Baylis.
CONFERENCE
A full weekend of talks and demonstrations on the rich subject of Tibetan medicine and concepts of wellbeing. Scholars, medical practitioners and experts meet to share their experience in eleven separate presentations. For those who wish to immerse themselves in the concepts of Tibetan medical practice, this is the weekend for you. Weekend and full day tickets are on sale now. Tickets for individual programs go on sale February 28, 2014.
A conference to deepen your appreciation of the exhibition Bodies in Balance: The Art of Tibetan Medicine.
Daily tickets $40
Full weekend $65
Friday, March 21
7:00 p.m. – Bodies in Balance: The Art of Tibetan Medicine – Theresia Hofer, guest curator
Exhibition curator Theresia Hofer outlines the complex, integrated medical, spiritual, and artistic dimensions of Tibetan medicine. Learn More
Saturday, March 22
10:00 a.m. – Yangbum Gyal, The Integration of Tibetan Medicine in Western Practice – Tibetan doctor Yangbum Gyal talks about the successes and challenges of marrying traditional Tibetan precepts with western biomedical treatments. Learn More
11:45 a.m. – Janet Gyatso, Reading Pictures: Medicine and Buddhism at the Peak of the Tibetan State – Harvard's Janet Gyatso looks at the intricate relations between religion and science in Tibet, as evident in certain telling details of the stunning set of medical images. Learn More
2:30 p.m. – Sienna Craig, Patterns of Resort: Prospects for Healing Himalayan Healers at Work in Tibetan Communities – Sienna Craig explores the lives of practitioners and the patients they serve, from remote mountain communities in northern Nepal to bustling cosmopolitan centers in China. Learn More
4:15 p.m. – Katharina Sabernig, Medical Murals at Labrang Monastery – Scholar Katharina Sabernig takes a very close look at the fascinating medical murals at the Labrang Monastery. Learn More
6:00 p.m. – Donald Lopez & Robert Buswell, Expressions of the Inexpressible: The Dictionary of Buddhism – A presentation to launch the Princeton Dictionary of Buddhism, in which the authors highlight the entries on the Medicine Buddha. Learn More
Sunday, March 23
10:00 a.m. – Anna Sehnalova, Medicinal Mandala: Tibetan Medicine in Ritual – Scholar Anna Sehnalova reports on the nature of a healing ritual intended to pacify the whole universe. Learn More
11:45 a.m. – Ronit Yoeli-Tlalim, Medical Astrology – Scholar Ronit Yoeli-Tlalim explores the relationship between sowa rigpa (the Tibetan 'science of healing') and tsi, the various sciences of the stars, time calculation and divination. Learn More
2:30 p.m. – Barbara Gerke, Taste and the Art of Tibetan Pharmacology – "The tongue is our best laboratory." Barbara Gerke explores the role of the senses in the making of Tibetan medicine, how medicinal qualities are often determined by a plant or other substance's feel, color, or taste. Learn More
4:15 p.m. – Ian Baker, Embodying Enlightenment – Yoga and Physical Culture in Tibetan Buddhism: Ian Baker draws back the veil that has shrouded Tibetan yoga practices for centuries. Learn More
6:00 p.m. – Fabio Andrico, Yantra Yoga: A Practicum – A practical guide to Tibetan yoga and a vehicle to better health. Learn More
All programs subject to change