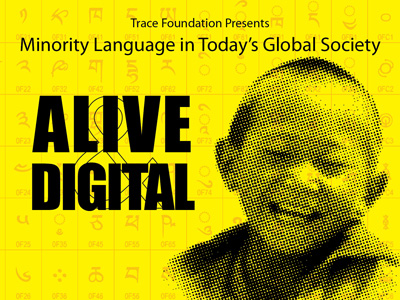 Trace Foundation is pleased to present the lecture series event entitled,
« Minority Language in Today's Global Society: Alive and Digital ».

Saturday, Nov. 20th, 10:00 am- 5:00 pm
Sunday, Nov. 21st, 10:00 am – 5:00 pm
Download the registration form here.
In this age of digitalization, technology is playing an increasingly important role in both the preservation and development of minority languages. From blogs and video sharing to text messaging and social media, powerful technologies are shaping the future of minority languages. This movement is stretching the boundaries of minority language communities beyond "geographical place" into a "digital place," bringing together communities from all regions of the world.
What technological breakthroughs lie ahead and how technology today is impacting linguistic minorities worldwide? Alive & Digital, the sixth and final event in Trace Foundation's first lecture series, Minority Language in Today's Global Society, will bring together scholars and experts who have worked extensively on minority language preservation and new technologies.
On Saturday, November 20th, a diverse group of speakers will discuss past and present trends in the relationship between technology and language, providing insightful, cross-cultural perspectives. On Sunday, November 21st, we will explore technological issues specific to the Tibetan language including, the Tibetan font converter, Unicode, and i-phone applications.
Through engaging lectures and discussion, Alive & Digital aims to draw attention to the ongoing developments in technologies and the corresponding benefits they bring to the vitality and viability of minority language in our digital future.
Speakers:
Keynote Speaker: David Nathan, Director, Endangered Languages Archive, SOAS
Lobsang Monlam, Developer of Monlam Tibetan font
Xueyan, Mongolian Language and Literature Department, Minzu University of China
Christopher Walker, Northwestern University
Christopher Fynn, Dzongkha Development Commission
Sonam Chusang, Developer of i-phone applications for the Tibetan Language
Jeff Wallman, Tibetan Buddhist Resource Center
Tashi Tsering, Tibetology Research Center, Beijing, Chinaadditional speakers to be announced
Trace Foundation
132 Perry St., Suite 2B
New York, NY 10014

Located in the West Village neighborhood of Manhattan
A, C, E, L trains to 14th St./8th Ave. Station
1, 2, 3 trains to 14th St./7th Ave. Station
PATH trains to Christopher St. Station

To register, please download the registration form here and fax or email it to us. You may also call or email us with your name, contact email, telephone, affiliation, and mailing address. Contact: events@trace.org, tel: 212-367-7380, fax: 212-367-7383.